Marvelbet Fishing Games
This section brings together a much larger number of games than just virtual fishing for money. In Marvelbet Fishing Games you will find a large number of games with completely different content. In general, this section includes not only the simulation of the usual fishing but also hunting. Here you can dive into the underwater world or conduct an exciting land hunt. You can play both from your own face and from the face of a predator who is looking for his prey. Bright modern graphics and dynamics of the game will immerse you in the atmosphere of most gambling fishing or hunting and provide unforgettable emotions from the game.
Online Fishing Games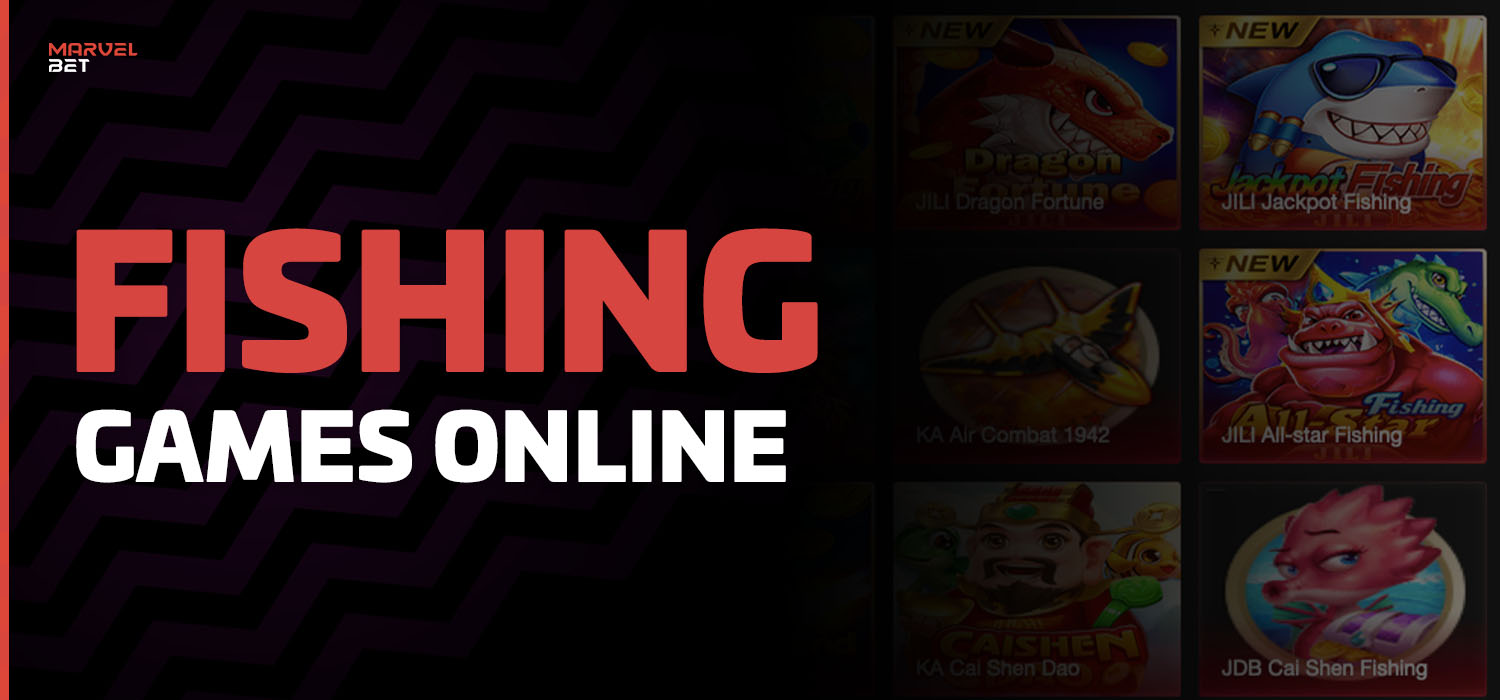 The "Fishing" section presents dozens of games for every taste. Here are examples of some of them:
Happy Fishing. By opening this game, you will see the seabed with treasures and its inhabitants. Your task is to kill the sea inhabitants that you will see there. For each one, you will receive a reward or so-called treasures. The bigger the sea dweller you killed, the bigger the reward. You will also have a whole arsenal of guns that you can use instead of the usual fishing rod.
Animal Fishing. In this game, you will see a raccoon with a fishing rod on the river bank. Your winnings also depend on the success of his fishing. Your task is to guide the fishing rod and catch as many fish as possible. Also on the left side of the screen, there will be a picture of different fish and the winnings that you will get if you catch it. However, be careful, because there is useless garbage in the water besides fish, which will not bring you a win.
Golden Fish Hunter. This is a multiplayer hunting game. Here, first of all, you need to choose the room in which you will play. You will be offered 3 rooms to choose from depending on your budget: Bronze (1-10 INR), Silver (10-100 INR), and Gold (100-1000 INR). In any of the rooms, you will see the underwater world and its inhabitants. You will have a cannon that you have to aim at the bigger fish to get more winnings.
Hungry Shark Cthulhu. The essence of this game is that here you are not just a fisherman, but you are a shark that is looking for its prey. Depending on your budget, you can choose for yourself a shark that is more or less dangerous for other fish. Keep in mind that the more fish your shark eats, the more winnings you will get.
Dragon Master. By choosing this game, you will get into the ancient world of dinosaurs and some other unreal animals. Your goal is still on the largest and rarest beast for maximum profit.
Devil Buster. Here you find yourself in the world of evil spirits, vampires, werewolves, zombies, and others. In your hands is a weapon that will help clear the world of these creatures and earn as much money as possible.
Mermaid Legend. In this game, the principle remains the same – underwater fish hunting in an attempt to make the best catch. However, here your main goal is a mermaid. She doesn't appear often and it's harder to catch her, but it will be worth it.
Food Coma. This game is different in that your main weapon is a fork, and the subject of your hunt is various dishes. Here you can also find out which dish corresponds to which reward and aim for the most delicious and profitable.
How to Play a Fishing Games
Going to the Marvelbet casino section, find the "Fishing" tab in the additional horizontal menu of the page. Next, you will see all the available games in this category. In arrange to begin playing and winning, you need to do the following steps:
1
Step 1
Log in to your Marvelbet account or register if an account has not been created yet. It'll take a diminutive of your time.
2
Step 2
Make sure that there are funds in your gaming account to place bets in the game. If there are no funds available, you can make a deposit and it will be immediately credited to your gaming account.
3
Step 3
Choose the game you like. By opening it, you will be able to get acquainted with the rules in more detail and start making your bets.
Fishing Game in Mobile App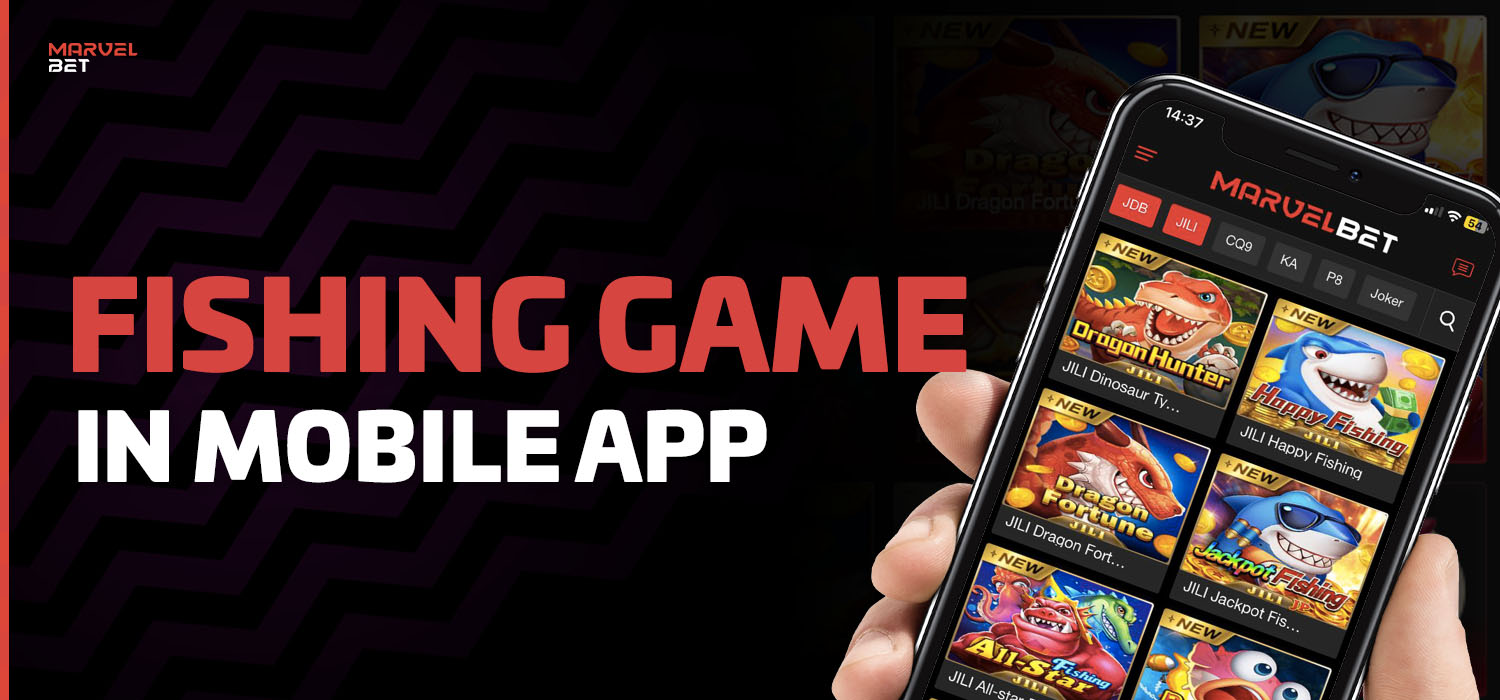 We invite you to enjoy Marvelbet Fishing Games from your mobile device! To do this, install our official mobile app, which is accessible to iOS and Android clients.
On our official website, pay attention to the vertical menu at the top of the screen. In the left part of it, you will find a symbol depicting a mobile phone. Click on it to learn more about the Marvelbet mobile app or download it.
The Marvelbet mobile application has all the features of the computer version. This means that you will also be able to play Marvelbet Fishing Games, place bets and win money. You can also top up your gaming account balance or withdraw the funds you have won.
Get the Marvelbet Fishing bonus
In order to get acquainted with the current bonus program, go to the section of the main menu of the website "Promotions". We do not provide separate bonus offers for the Fishing Games category, however, you can use some other bonuses. For example, a bonus on your first deposit or a so-called Welcome Bonus. It is available to all new users and will increase the size of your first deposit. This will allow you to place more bets and immerse yourself in the world of Marvelbet Fishing Online from the first minute.
In addition, you will find separate bonus offers for casino games. Please note whether the offer applies to the "Fishing" category.
Quick Fishing Games Strategy Tips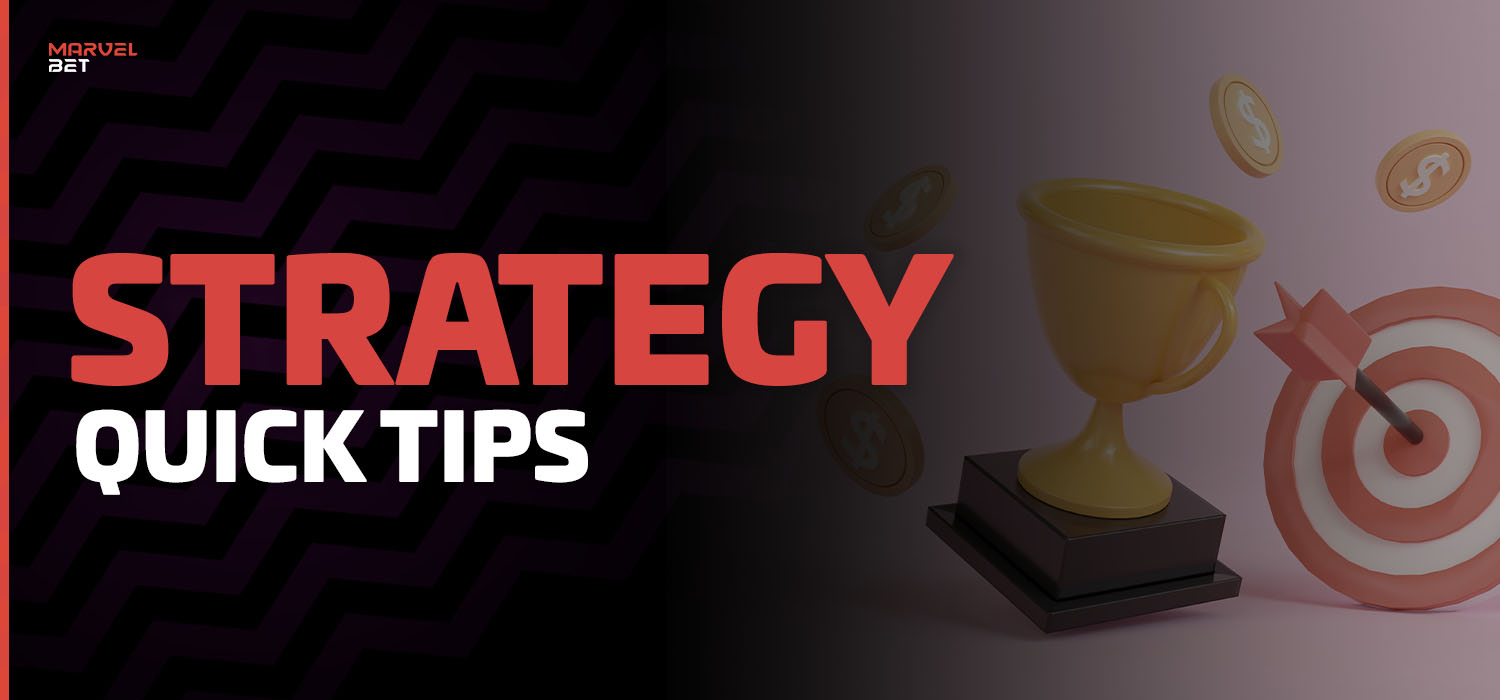 In this category of games, you have to rely mainly on your attentiveness. There are no specific algorithms for how to make your game win in this category. But we have a few tips for you:
After opening the game, carefully read its rules and game controls. If there is a demo version, first practice in it.
Be attentive and focused during the game. Everything goes like a real hunting or fishing trip, you can very quickly miss the opportunity to get your reward because of your inattention.
Assess your capabilities sensibly and choose the appropriate level of difficulty. As a rule, the game offers 3 difficulty levels and you can choose any of them. You can change the difficulty level at any time in the game, so we recommend starting from the lowest and gradually increasing it.
From the variety of games, choose the most interesting and exciting topic for yourself. This will help you to understand the game with pleasure and not be distracted in the process, which will surely bear fruit as a win. We remind you that with Marvelbet Fishing Games you have the opportunity to choose a game for absolutely every taste.
Facts about Fishing Games
Here are some facts to get you to know this section of games better:
This section includes games related to fishing and hunting.
These casino games are very popular due to their simplicity and fascination.
Fishing Games have various bonuses inside the game that will help you increase your winnings.
By going to the main page of Marvelbet Fishing Games, the games will open to you in order from the most popular ones, which we recommend to you first.
When you have favorites in this section, you will be able to mark them with a "like" sign, which will allow you to return to your favorite game faster in the future and not look for it.
You've got the alternative to set a filter on the supplier you're curious about or utilize the look bar on the off chance that you're searching for a particular diversion.
FAQ
Why Should I Try Marvelbet Fishing Online?

These are simple-to-follow and at the same time dynamic, bright, and exciting games. You will be able to quickly and easily understand the principles of the game and start receiving winnings.
Do I have to register with Marvelbet to play Fishing Games?

Yes, in order to start the game you need to create your account. It will contain your personal gaming account, which will permit you to put bets and collect rewards. The registration process is easy and fast.
Which games are included in the Marvelbet Fishing Games section?

This section includes all kinds of variations of the game related to fishing and hunting.
Is it convenient to play Marvelbet Fishing Games from a mobile phone?

Yes, since you can download our official mobile app. It has all the features of a computer version of the site and will allow you to enjoy the game from your mobile phone.