Marvelbet Table Games
MarvelBet's beginnings can be traced back to 2017, when a committed group of professionals set out to build something remarkable. Their dedication and perseverance were rewarded when the company was named the top online casino in India. MarvelBet Table began with a small selection of games and has since developed into one of the most popular, dependable, and high-caliber betting and casino platforms.
MarvelBet Casino Table Game has a wide selection of gaming alternatives that accommodate all preferences, from classic games to cutting-edge slot machines. The brand doesn't, however, take its success for granted. It works hard to improve its services and stay current with the casino and betting industries.
MarvelBet Table  stands out for its dedication to excellence, which keeps users on the platform. MarvelBet continues to lead the online gaming sector with a focus on upholding its stellar reputation and giving customers the finest experience possible. Join us and take part in the exciting adventure at MarvelBet Table Game Online, where a love of gaming and a commitment to innovation combine to provide a really memorable experience.
Casino Online Table Games
For gamers of all interests, MarvelBet provides an excellent assortment of online casino table games. Each game promises a compelling story, tons of entertainment, and the possibility to take home a sizable prize.
Andar Bahar: Take part in the thrill of this age-old card game in India. Win large by correctly predicting whether the next card will land on the "Andar" (left) or "Bahar" (right) side.
French Roulette: With this traditional European variation, enter the affluent world of roulette. Watch the exquisite wheel spin as you wager on your preferred numbers or combinations for exhilarating prizes.
Sic Bo: Take part in the traditional Chinese dice game Sic Bo. Betting on different dice combinations will allow Lady Luck to decide your fate.
Roll the dice and make a prediction as to whether or not the total will be 7. This game is easy to learn and exciting to play, with rapid wins available.
Horse racing: Place bets on fictitious races and experience the surge of adrenaline as the horses sprint for the finish line. Put your knowledge of betting to use by selecting the victor and collecting your winnings.
Teen Patti: Play this well-liked poker-like card game to embrace the spirit of India. In this exhilarating multiplayer game, you can test your bluffing prowess and compete against other players.
Max Keno: Take pleasure in the thrill of playing Keno, a lottery-style game in which you select numbers and hope they match those drawn. For bigger winnings, Max Keno offers larger prizes.
Lucky Bingo: Get set for some exciting bingo! Be the first to finish a successful pattern and yell "Bingo!" as the numbers are called out. Mark off the numbers on your card as they are called out.
Joker Poker Aces: Play Joker Poker Aces to get in on the video poker action. To create winning hands, use the wild Joker, and for enormous prizes, try to get the coveted Royal Flush.
How to Play a Table Games
It's simple to play MarvelBet Table Game Online. To begin taking pleasure in the thrills, just follow these easy steps:
1
Create a free account if you're new to MarvelBet by doing so.
The procedure is simple and quick, taking only a few minutes.
2
Log in:
For already-registered users, enter your login information to access your MarvelBet account.
3
Choose a Game:
Visit the Table Games section and peruse the wide range of options. Along with fascinating versions like Sic Bo and Andar Bahar, you'll find time-honored favorites like Roulette and Poker.
Table Game in Mobile App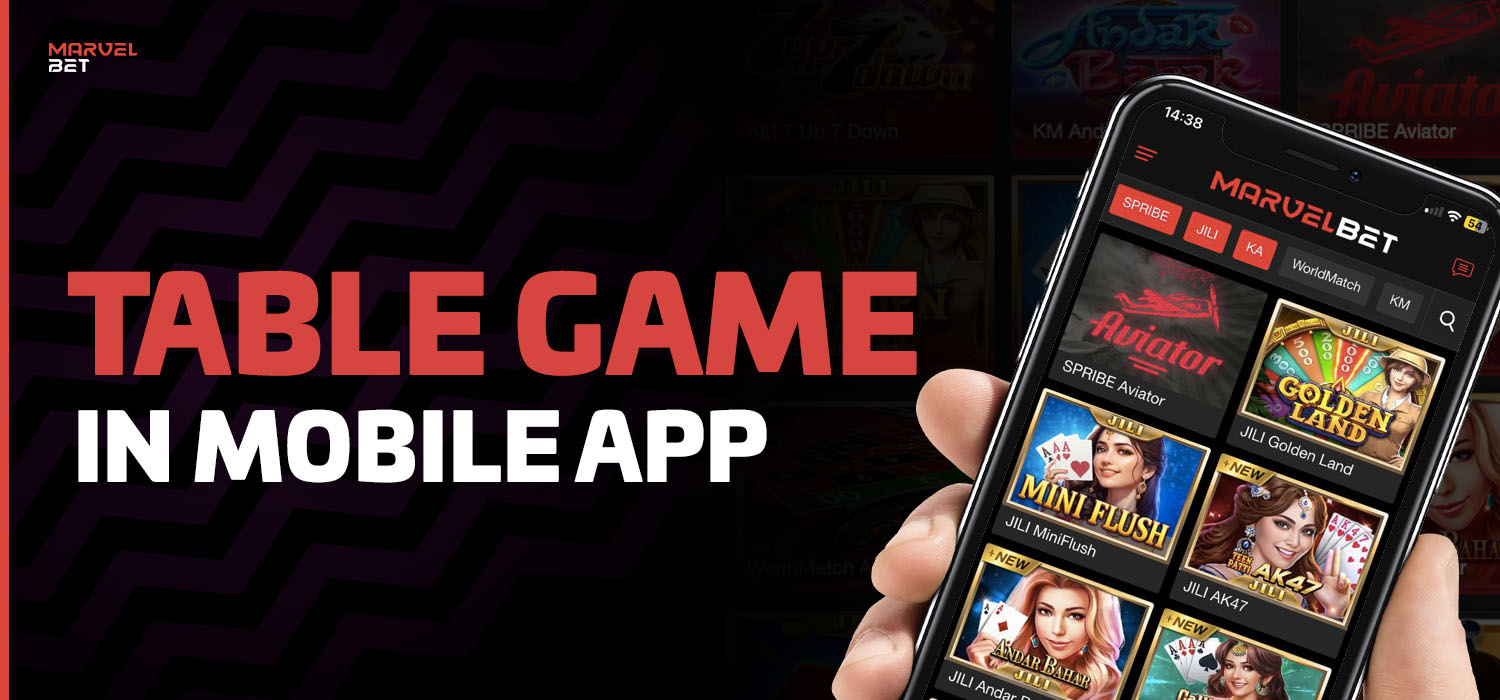 Android
MarvelBet offers an easy and quick alternative for Android users to experience our exhilarating table games. To begin, simply open the web browser on your Android device and navigate to our website. The "Download APK" or "Get the App" button can be easily found once you've arrived at the website. When you tap it, the APK file will immediately start downloading.
Go to the Downloads folder on your smartphone, or wherever the APK file is kept, when the download is finished. To start the installation process, find the file and touch on it. Don't panic if your smartphone asks you to authorize installations from unidentified sources; this is a common security precaution for programs downloaded from sources other than the official app stores. Simply give your consent, then carry out the installation.
Start an exciting gambling trip after the MarvelBet app has been successfully loaded on your Android device. MarvelBet's Android app makes sure you never miss the thrill of playing your favorite table games, whether you're at home or on the go
iOS
We regret to tell iOS consumers that due to some technological limitations, MarvelBet does not currently have a dedicated app accessible in the App Store. We do, however, have a terrific option that will allow you to smoothly enjoy our thrilling table games.
Do not worry; you can still enjoy fantastic gameplay by visiting our fully functional iOS website. You may enjoy the thrill of our table games right on your iOS smartphone thanks to its easy and slick UI.
Simply use Safari or another web browser on your iOS device to begin going. Enter "MarvelBet" in the search box or go directly to our website. Go to the "Table Games" area of the website once you are there. You'll have immediate access to our exciting tables with only a few taps, ready to put your bets and explore the world of entertainment. You can be confident that the iOS experience will give you the same degree of excitement and delight as the Android experience.
Get the Marvelbet Table Game Bonus
Prepare to take advantage of the MarvelBet Table Game Bonus and enhance your gaming enjoyment with excellent cash back incentives. You can wager on a variety of gaming alternatives, such as sportsbook, live casino games, slots, and lottery, to qualify for the 5% cashback. Accept diversity and check out the exciting entertainment MarvelBet has to offer.
You will be more eligible for cashback incentives as you play more. MarvelBet offers cashback starting at 50 INR and going as high as 5,000,000 INR. Your account will be credited with the appropriate cashback amount each Monday, providing you a thrilling boost to start the workweek.
Quick Table Games Strategy Tips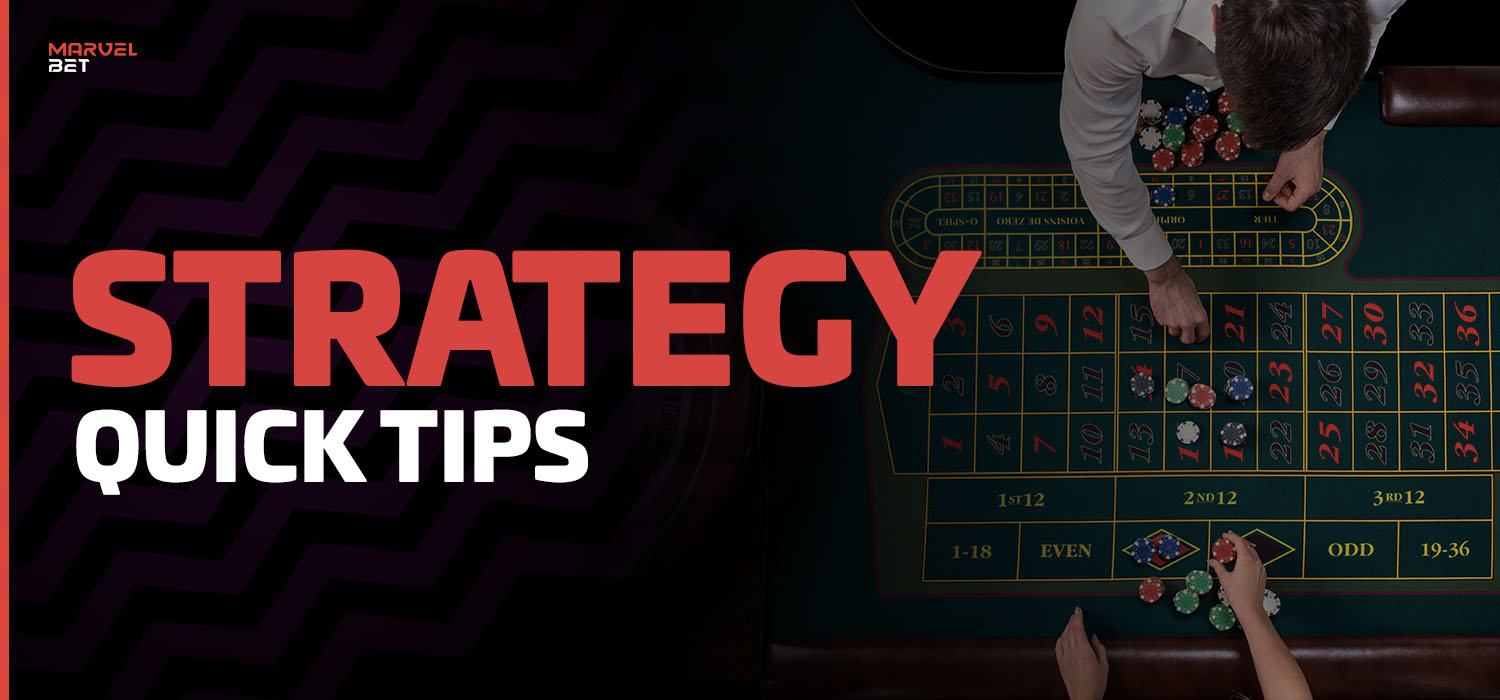 Table games require a combination of skill, luck, and a calculated approach to be mastered. These fast table game strategy hints will improve your decision-making, increase your chances, and improve your entire gaming experience whether you're an experienced player or a new player.
Manage Your Bankroll: Establish and adhere to a spending limit for your time at the casino. Never gamble more than you can afford to lose, and stay away from chasing losses. You may enjoy playing without worry about money if you take a systematic approach to managing your bankroll.
Understand the Rules: Spend some time learning the rules and gameplay principles of any table game before playing. Every game has a distinctive strategy, and being familiar with the rules gives you an advantage over your opponents.
Play Responsibly: Keep in mind that gambling should only be done for fun. Set boundaries for your play and steer clear of emotionally-driven impulse choices. Just as crucial as knowing when to play is knowing when to quit.
Utilize the free demo versions of the table games that internet casinos offer as practice. Before playing with actual money, hone your abilities in a risk-free setting.
Enjoy Your Experience: Table games are supposed to be lively and engaging. Enjoy the excitement of the casino atmosphere while keeping in mind that results are ultimately determined by luck. Enjoy gambling's entertainment value and avoid letting setbacks mar the whole experience.
Applying these simple table game strategy hints will, in the end, greatly enhance your gaming experiences. Because casino games have a house edge, keep in mind that no strategy will ensure repeatable success. However, playing strategically while being in control of your gambling might increase your enjoyment and possibly produce better results.
Facts About Table Games in Marvelbet
Here are some interesting details regarding the allurement of these table games at MarvelBet Casino Table Game:
With 68 different games to pick from, MarvelBet offers a substantial selection of table games. There is something for every player's inclination, whether you enjoy playing traditional casino games or are looking for cutting-edge versions.
Four Prominent Vendors MarvelBet Table collaborates with four reputable providers—PJILI, KAgaming, WorldMatch, and KingMaker—to provide a premium gaming experience. These companies are renowned for their cutting-edge technology, superb graphics, and engaging gameplay.
FAQ
What number of table games does MarvelBet provide?

MarvelBet provides 68 exhilarating table games in a wide variety.
Are mobile devices compatible with MarvelBet's table games?

Yes, both Android and iOS smartphones can play table games at MarvelBet.
Are the table games at MarvelBet trustworthy and fair?

In order to guarantee fairness and transparency in all game outcomes, MarvelBet's table games are powered by trustworthy vendors and subject to frequent audits.
Can gamers play table game demos for free?

Yes, before using real money, players can train and hone their abilities on free demo versions of MarvelBet's table games.