Marvelbet Table Tennis Betting
Table tennis betting is a form of sports betting in which participants bet on the outcomes of matches or specific events related to the sport. Before betting on table tennis, it is important to understand the basic rules and characteristics of this game. Table tennis is played on a small table divided in half by a net. Each player has a racket and they send a small ball across the net, trying to earn points by hitting in different directions and with different strengths.
MarvelBet Table tennis Betting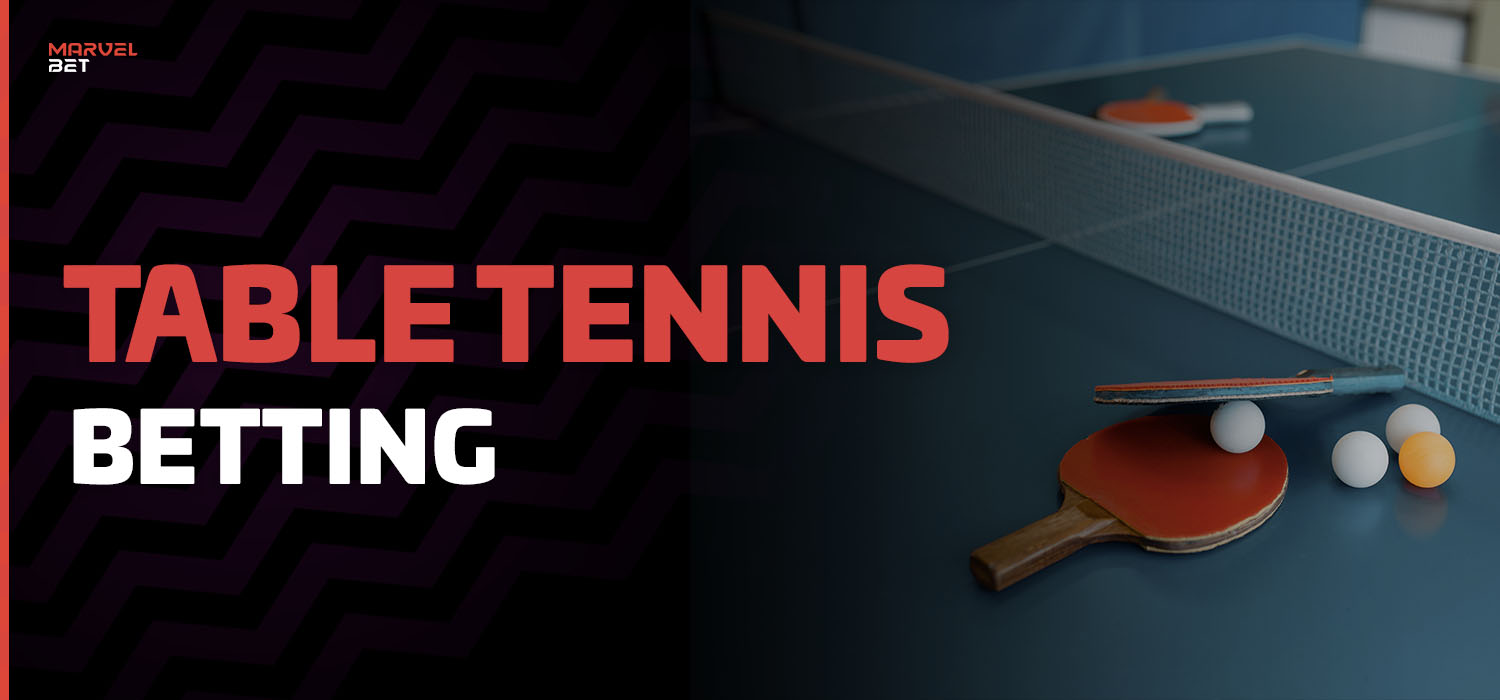 MarvelBet is an online sports betting service that offers the opportunity to bet on table tennis. Table tennis has become one of the most popular sports that attracts millions of fans all over the world, not excluding Bangladeshis. 
Our company provides an extensive list of table tennis events including various leagues, tournaments, and championships. Users can choose from a variety of matches and bet on a particular player or team to win, as well as other types of bets such as a total number of games or sets, exact score, games in each set, etc.
We offer competitive odds for MarvelBet table tennis bets, which makes them attractive for players. In addition, our service provides detailed statistics and analytics for each event, including information about previous encounters and the performance of each player or team. This feature assists users in making better-informed choices when placing their bets.
How to Bet on Table tennis at MarvelBet?
To bet on table tennis at MarvelBet, you need to follow the steps below:
1
Register on our MarvelBet website.
To accomplish this task, you should begin by setting up a personal account. This will involve supplying essential information such as personal particulars and contact details.
2
Deposit to your account.
Our company provides various payment methods such as credit cards, e-wallets, and bank transfers. Select the most suitable method to complete a deposit and initiate the payment.
3
Log in to your MarvelBet account.
Go to the sports betting section and find table tennis in the list of available sporting events.
4
Choose the tournament or match you wish to place your bet on.
We provide a wide selection of table tennis tournaments and matches, so you'll have plenty of betting opportunities.
5
Browse through the available bets and choose the one you are interested in.
We offer different types of bets such as match win, total number of games, totals, game handicaps, and others.
6
Specify the amount of the bet and confirm its placement.
Once the bet is confirmed, it will be added to your betting coupon.
7
Wait until the end of the match or tournament to find out the result of your bet.
If your prediction comes true, you will receive your winnings.
Live Table tennis Betting
Live table tennis betting means that you can bet on a match that is already in progress. This gives you added excitement and the ability to react to changes in the course of the game.
When you go live at MarvelBet, you will see a list of available table tennis matches. You can choose between different tournaments, leagues, and matches.
When you select a match, you will see the current bets and odds. The odds change in real time depending on the progress of the match and changes in the betting balance.
You can bet on various events during the match, such as the winner of the game, the outcome of the match, or the number of points in a game. When you place a bet, you choose the amount you want to bet and click on the "Confirm" button.
However, live betting requires some experience and analytical skills. You need to be ready to promptly respond to shifts in the game's dynamics and make choices relying on your instinctive comprehension of the game.
We at MarvelBet also have various tools and data available that can help you make more informed betting decisions. For example, you can view match statistics, match history, or analyze the players' form.
Live table tennis betting at MarvelBet Bangladesh allows you to enjoy the game and add excitement to your bets.
Bonus on Sports for New Users at MarvelBet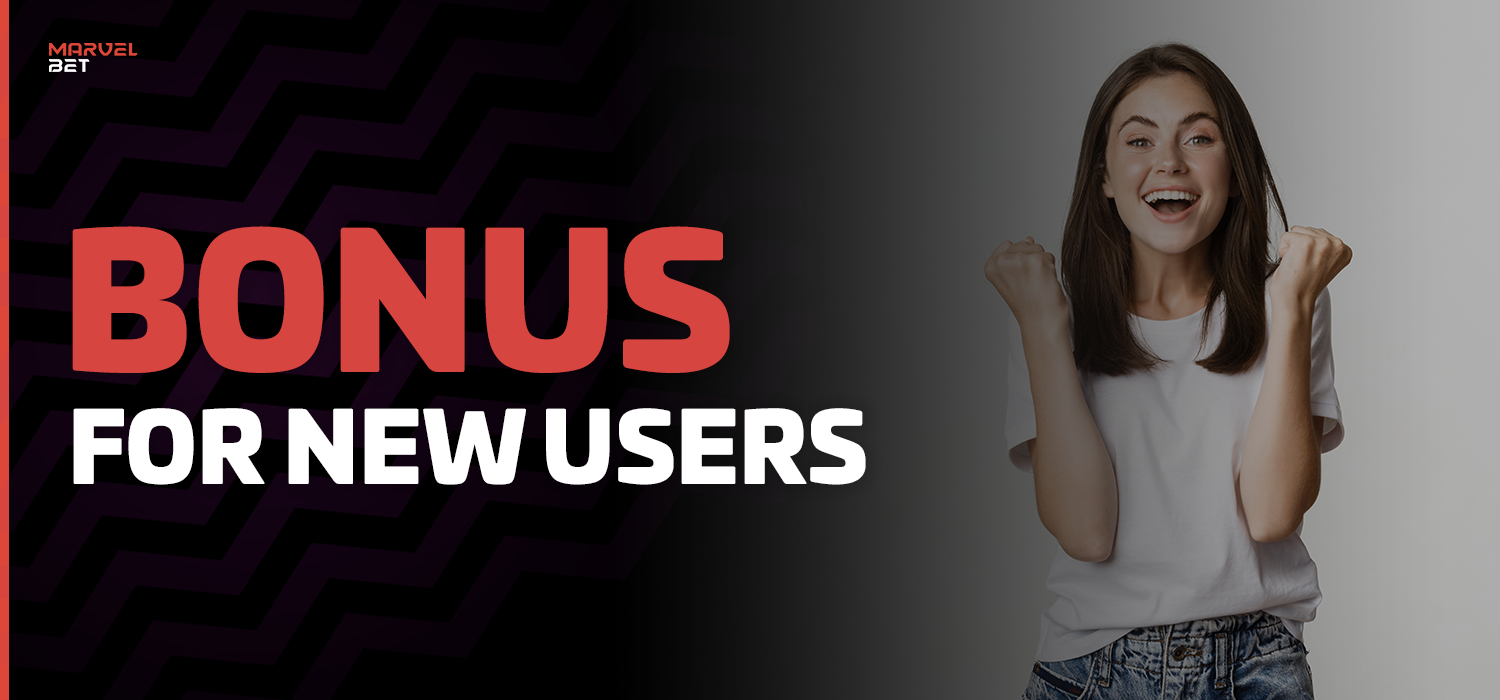 Sports bonus for new MarvelBet users is a special offer that we provide to new players of MarvelBet online table tennis bookmaker office upon registration and a first deposit.
300% bonus on the first deposit. MarvelBet's first deposit bonus is a welcome offer for our new players, which allows them to get additional funds on their first deposit. To take advantage of this promotion, you need to follow a few steps. First, you need to register on our MarvelBet website and create your account. Then, you need to make your first deposit to your gaming account.
| | |
| --- | --- |
| Minimum first deposit | BDT 500 |
| Size of the bonus | BDT 1,500 |
| Turnover | 25x |
| Number of times used | Once |
| Bonus Validity | 30 days |
What Advantages do you get from Table tennis Betting on MarvelBet?
When betting on table tennis at MarvelBet Bangladesh you can get the following benefits:
A wide selection of events. Our MarvelBet offers a large number of table tennis matches and tournaments, allowing you to choose the betting options that interest you.
A variety of bet types. You can bet on a variety of outcomes in matches, including a certain player's victory, exact score, totals, and others. This enables you to select a wager that aligns with your preferences and analytical capabilities.
Attractive odds. We offer competitive odds on table tennis betting, allowing you to increase your potential winnings.
Live streaming and statistics. We provide live match coverage and access to detailed statistics to help you follow the game and make informed betting decisions.
Fast payouts. In the event of a successful table tennis bet, we at MarvelBet provide fast and reliable payouts, allowing you to enjoy your winnings as soon as possible.
Bonuses and promotions. Our company offers various bonuses and promotions for players, allowing you to get additional opportunities for table tennis betting.
Table tennis Betting Tips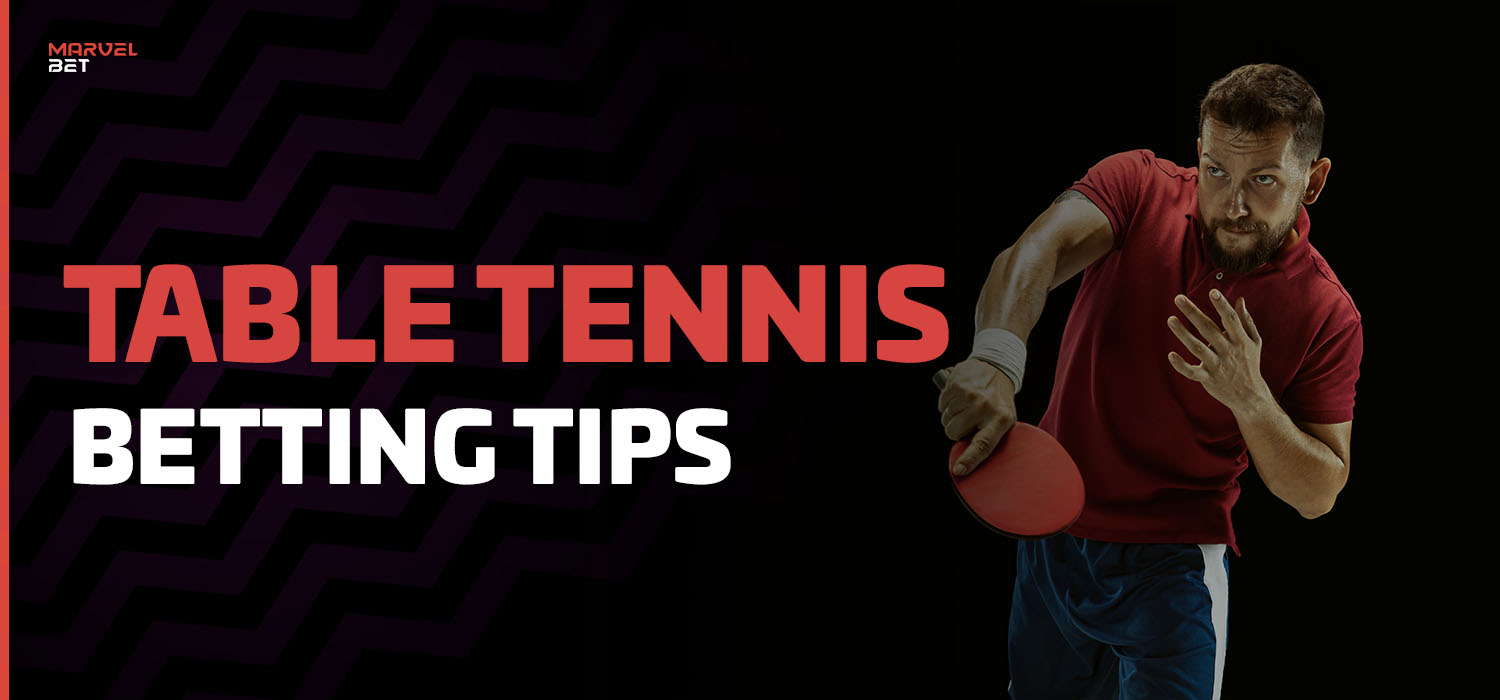 We offer a variety of tips and advice when betting on table tennis. Here are a few fundamental suggestions that might prove useful:
Research the players and their statistics. Study the players' past performances, their successes, playing style, fitness, etc. This guide aims to provide you with essential information to ensure you are well-informed when selecting a bet.
Study the factors affecting the game. Find out what factors can affect the game such as weather, court surface, players' health condition, etc. Take these factors into account when predicting results.
Use betting strategies. Develop your own table tennis betting strategy that suits your goals and playing style.
Stay up to date. Keep up to date with the latest news and updates in the world of table tennis. Important information about the health of players, changes in the coaching staff, or the position of a player in the rankings can have a significant impact on the result of a game.
MarvelBet Table tennis Betting Apps
We have developed an app, which is available for Android devices, especially for table tennis fans who like to bet on this sport. It allows users to bet on the matches of the most popular table tennis tournaments and competitions.
Simplicity and user-friendliness are among the key highlights of this app. Users can easily find the match they are interested in, view information about the players, the history of their confrontations, and access statistics of previous games. This information helps users to make more informed decisions when placing bets.
FAQ
How do I determine the probability of a player winning in table tennis?

The probability of winning a table tennis player depends on his rating, form, results of previous matches, and other factors. It is also worth considering the strength of the opponent and their statistics.
What are the features of MarvelBet table tennis betting?

Features of MarvelBet table tennis betting include the ability to place live bets on matches in real-time and follow the changing odds.
What types of bets are available for table tennis at MarvelBet?

At MarvelBet you can bet on the winner of the match, total of games, games, sets, and others.
Which table tennis leagues and tournaments does MarvelBet offer?

MarvelBet offers betting on table tennis tournaments and leagues from various countries including Europe, Asia, and other regions.
What are the basic terms and conditions of table tennis betting at MarvelBet?

Terms and conditions may vary depending on specific events or championships, so we recommend reading them on our official MarvelBet website before placing a bet.