Marvelbet Casino Slots
MarvelBet casino brings to your attention a modern and convenient platform for online casino games and slots. All MarvelBet slots are provided by reliable providers. We guarantee smooth graphics, uninterrupted operation and colourful visuals.
Online Slot Machines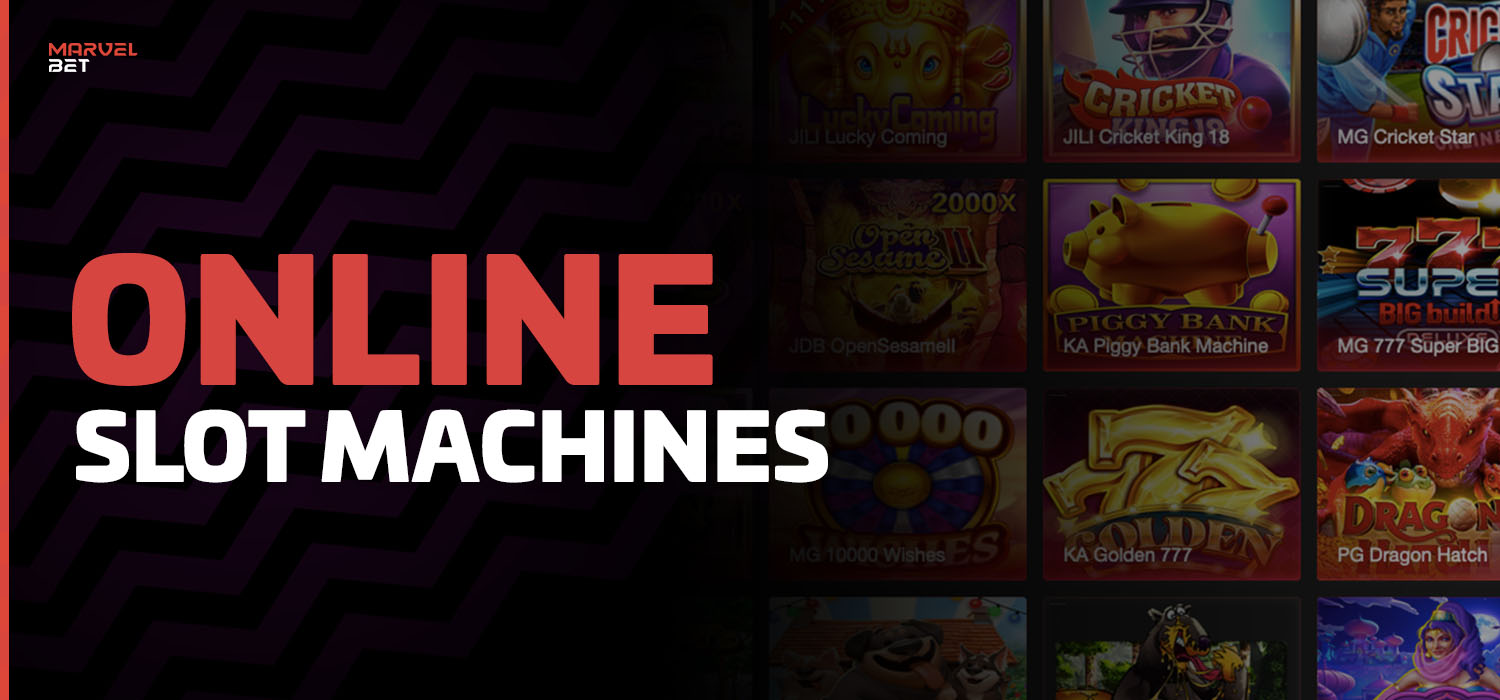 The Marvelbet casino offers players a large number of different games and slots that allow players to maximize their winnings. The most popular Marvelbet online slots are represented by providers:
JILI;
PP;
PG RICH88;
CQ9;
JDB;
SG.
JILI slots are characterized by their bright design and simplicity. Among the MarvelBet online slots you can find different variants of them: JILI LuckyComing, Golden Land, Book of Gold. In the game, you need to strike a lucky combination of symbols. Depending on the type of game, this could be a combination of cards, fruits or crystals. Players can also knock out an explosive combination of crystals and get big wins.
PP slots also come in different types of games: PP 888 GOLD, PP 5 LIONS DANCE, PP Pipun Girls. In PP 888 GOLD clicking on "Play" the user starts spinning the reel and once the combination is 888 he gets the winnings.
The most popular Marvelbet casino slots created by PG are PG Candy Burst, PG Ganesha Fortune. PG Candy Burst works on the principle of three in a row. Beautiful design and clear interface, Free Spins system are waiting for you here. In order to win you need to get three or more of the same candy in a row. "Wild" symbol allows players to clear an entire row on the playing field at once and increases the winnings.
Among MarvelBet online slots by CQ9 the most eye-catching are CQ9 Songkran, CQ9 6 Toros, CQ8 5 Boxing. They deserve special attention. You can try to play them even without registration using Free trial. Launching this version, the player sees a drum, which must be launched using the "Play" button. It is necessary to knock out the same combination of symbols: characters, swimming goggles or water pistols. The player is initially given credit, thanks to which he can make free spins.
JDB slots are represented by a great variety of games: JDB Birds Party Deluxe, JDB Candy Land. The game is very simple and clear for any user. The design immerses all players in the fabulous world of sweets, all this is accompanied by bright graphics and pleasant music accompaniment. The game offers a number of bonuses and free spins.
SG games are presented on the MarvelBet slots SG Love Idol, SG Mermaid, SG Poker Ways. Attractive game design and beautiful characters will not let users get bored. In addition, the game has a bonus system. When 3 "Scatter" symbols from left to right appear on the screen it treggers Free Game mode and awards 8 Free Spins.
KA Bonus mania is a classic slot machine. It has no special symbols, as in previous games. The winnings depend on the combination of 777. The fourth reel in the game is the bonus reel, it allows you to knock out multipliers, which are then applied to winnings. This way you can increase your winnings by 2, 5 or 10 times.
PNG games are represented by various exciting slots. PNG Cash Pump is represented by 12 reels. And the game has symbols "Wild", which increases winnings x2, x3, x4 and "Scatter", which gives 7 Free spins.
PT Eternal Lady immerses users in the interesting world of Asian culture. The symbols of the game are a girl, a rabbit, a lotus, a Chinese lantern and letters. This is a five-reel game with many bonuses and Free spins. To win you need to match at least 3 symbols. When moon cake scatters fall out, there is an opportunity for a big win. RT AncientScript is a five-reel slot that will immerse you in the world of Ancient Egypt. Modern graphics, beautiful symbols, atmospheric music and lots of bonuses are waiting for you. AncientScript slots are equipped with ten paylines, which increases the chance of players to win. The rarest and most important symbol is the pyramid, which can increase the winnings 500 times of the bet.
How to Play a Slot Machine
To play and win at MarvelBet online casino slot users should learn the basic principles of the game. Therefore:
1
Step 1
Go to the official MarvelBet website or MarvelBet Mobile App.
2
Step 2
Go through registration on the website or in the mobile app. To do this click the "Registration" button. Enter real name, email, cell phone, date of birth. After that, click on the "Register" button. Now you are ready to dive into the exciting world of Marvelbet online slots and different casino games.
3
Step 3
On the main page at the top you can select the "Slot" section.
4
Step 4
New page with slots opens. Here using filters you can select a slot from a particular provider (PP, PG, KA, etc.)
5
Step 5
After selecting a slot, click on the "play" button.
6
Step 6
At the beginning will appear an introductory fragment with an explanation of the principle of the game. Most MarvelBet slots have similar rules. In order to win the player needs to get a combination of identical images on one line. Players need to make the following actions: Select the bet size. Start the reel. Once the slots stop the winning lines are paid. Many slots have a number of special symbols. "Wild" symbol is able to replace the missing image in the row to knock out a winning combination. "Scatter" symbol increases the amount of winnings in the number of times provided by the rules of the game.
Varieties slots in Marvelbet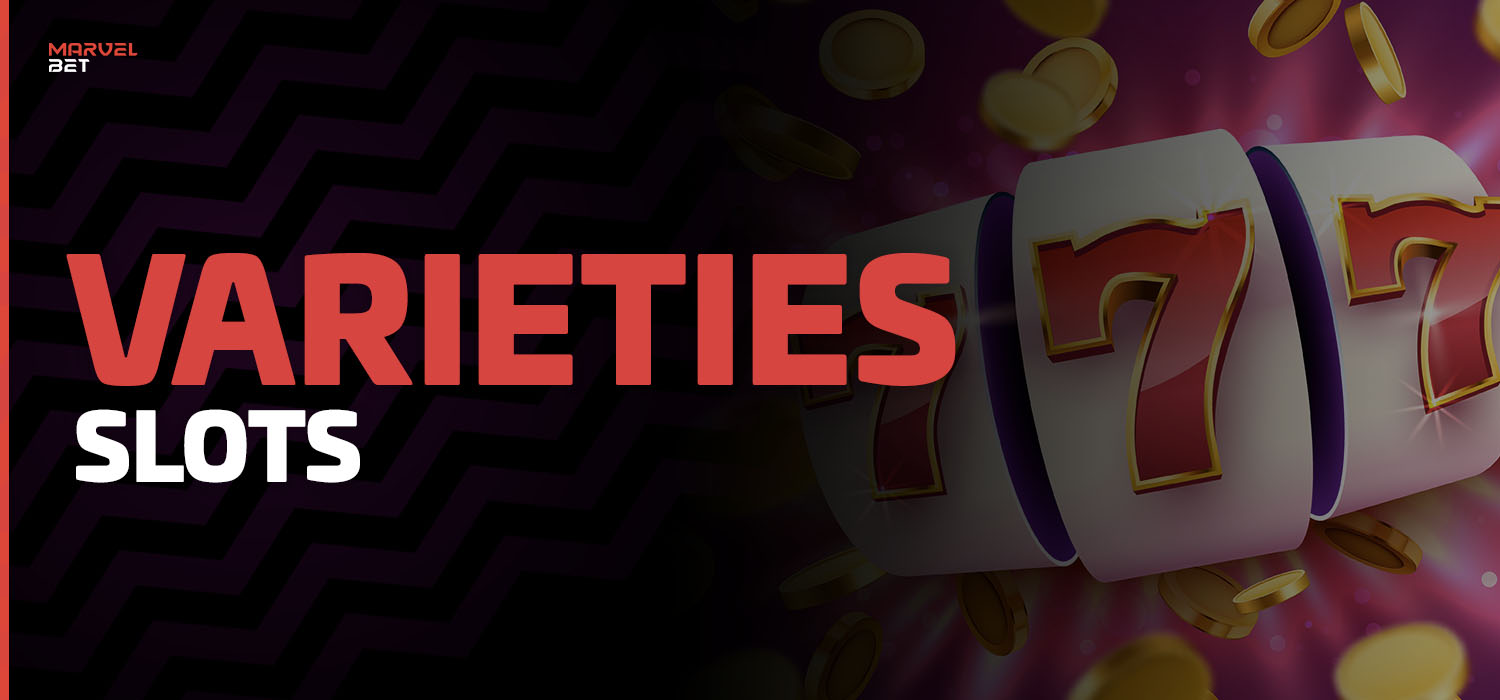 MarvelBet online slots are characterized by a great variety. On our website and in the mobile app you can find different types of slots: three, five, six and seven-reel slots that allow you to win big.
Different generations of slots are represented by the following types:
| MarvelBet slot | Description |
| --- | --- |
| Classic slots (KA Bonus mania) | These slots immerse you in the atmosphere of an old casino. This is the oldest type of slots, which don't involve special symbols, but they also allow you to get big wins. |
| Progressive slots (JILI LuckyComing, Golden Land, Book of Gold) | Are notable for their great features. This type of slots includes jackpots that allow you to win big sums in a few clicks. |
| Video slots (SG Love Idol, SG Mermaid) | These slots are characterized by modern design and a large number of characters, as well as a variety of music. This all allows the player to maximize the atmosphere of the game and enjoy the beautiful graphics. |
| 3D MarvelBet slot (PT Eternal Lady, RT AncientScript) | Are fascinating unusually bright picture, a large number of levels and tasks. In this type of slots there is a storyline, which is especially attractive for players who want to fully immerse themselves in an interesting story. |
In addition, slots differ in the number of paylines. In classic slots one payline. In progressive slots, depending on the number of reels paylines can be more than three (up to 25 or even 50). The more paylines the higher the probability of getting the coveted winnings.
Slots in Mobile App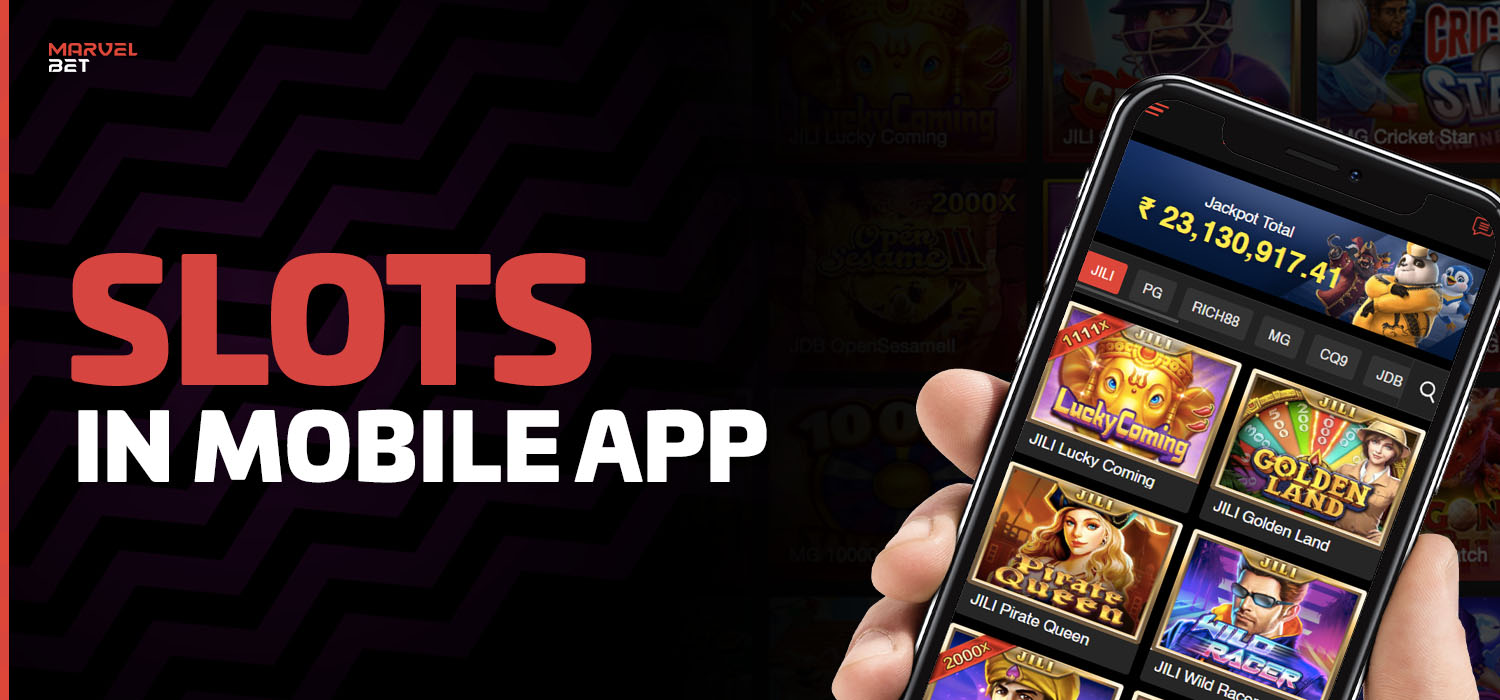 The best app for playing online slots in Bangladesh is MarvelBet Mobile App. MarvelBet Mobile App can be downloaded from the official website by following the instructions:
On the homepage, you will see the mobile app icon.
Click on it, a window with a link to download the mobile app will open.
Download and installation is done in one click.
Register and enjoy the game.
The app offers more than 150 games, advanced slots with jackpots that guarantee you big wins. Nice design, advanced navigation, lots of bonuses.
Downloading the app is completely safe and free. You can play as high-quality and fast as on the official MarvelBet slot website. Join the exciting and bright world of online slots with MarvelBet Mobile App.
Get the marvelbet slots bonus
On the official website MarvelBet we have placed information about all current promotions and bonuses. To find out about them you need to:
1
Step 1
Go to the main page of MarvelBet and open the section "Promotions".
2
Step 2
On the new page you will see all promotions available at the moment.
3
Step 3
Click on the promotion or bonus you like, study its terms and conditions.
4
Step 4
Click on "Join the promotion".
Bangladesh's most popular promotions:
10% Casino & Slots Daily 2x Bonus – BDT. In order to participate in this bonus you need to make a deposit (minimum 300 BDT) and after your details are verified you will be awarded a bonus of 100% of your deposit amount.
Deposit 500 Get Free 1,500. This bonus is available to players after registering at MarvelBet. The player must deposit 500 BDT and after verification of your details, a bonus of 1,500 BDT will be awarded.
50% Slots Reload Bonus. To get this bonus you need to register at MarvelBet, make a deposit (at least 200 BDT) and then you will be credited with a bonus of 50% of your deposit amount.
1.2% Cash Rebate on Slots. After registering at MarvelBet, play MarvelBet online slots games and get a 1.2% cash rebate on your account.
Quick slots strategy tips
At MarvelBet online casino slots we use slots that determine the winners using a random number generator. The numbers determine exactly where the reel stops when you press play. You win when the same images line up in the same line.
In order to enjoy the game process to the maximum, carefully study the rules of your chosen slot. Many MarvelBet online casino slots offer a demo version, you can go through it in order to learn how to play slots.
If you are playing slots for the first time we recommend that you start with Free Spins and put small amounts, gradually increasing the bets.
MarvelBet's official site and mobile app also offer bonuses for first-time registrations and future deposits. Bonuses help players to increase their chances of winning and make the game more exciting.
The best slots providers
On the MarvelBet website and in the MarvelBet Mobile App you can find a variety of slots from different providers. The large selection of slots allows each player to find something different and get big wins.
PP (Pragmatic play) is one of the biggest online casino game providers on the market. It has earned a lot of respect from users thanks to excellent graphics, interesting music and gameplay that every player can understand. You can play slots from PP not only on PC, but also on your phone using the mobile application MarvelBet Mobile App. The most popular MarvelBet slots from PP proviser, which are represented : PP 888 GOLD, PP 5 LIONS DANCE, PP Pipun Girls
NetEnt is a provider that has earned special honor from players all over the world. Slots from NetEnt are characterized not only by bright and detailed graphics, but also by an exciting plot and characters. All this immerses players in an unforgettable world of adventure. The slots from NetEnt (NETENT MILKSHIKE, NETENT SUPERSTARS, NETENT CASH NOIRE ) feature a large number of Free Spins, bonuses and various promotions that allow players to get big wins.
CQ9 is one of the most popular online slots providers. The library of slots consists of more than 100 games (CQ9 Songkran, CQ9 6 Toros, CQ8 5 Boxing). The design and characters take the player into the world of Asian culture. Thanks to the support of HTML5 technology, you can play on PC and mobile devices by downloading the MarvelBet Mobile App from the official website.
FAQ
What slots can I play on the website MarvelBet?

On the MarvelBet official website you will find a large number of different types of slots: three, five, seven-reel slots. As well as classic slots, 3D slots, progressive slots, video slots. MarvelNet online slots offers every player to find the right slot for an exciting game and big winnings.
Is there an opportunity to get bonuses while playing MarvelBet?

You have a one hundred percent chance to get bonuses both when registering on the MarvelBet site and when installing the mobile application. You can find information about all current bonuses on the official website in the "Promotions" section.
How to play slots at MarvelBet?

In order to play on MarvelBet slots you need to register. It only takes a few minutes. Enter your details, make up a password and click "Register".After that, use the filter to select your favorite slot categories and click on "Play"
Are there any tactics for playing MarvelBet slots?

There are no specific tactics on how to win at slots, as MarvelBet slot machines use a random number generator that determines the winners. Place your bets, spin the reel and wait for the combination of symbols in one line. To increase the chances of winning you can knock out special symbols ("Wild", "Scatter"). Besides, don't forget to take advantage of all the bonuses offered by our website and MarvelBet Mobile App.